Orange County Palm Tree Service
Orange County is known for its fabulous palm trees. Nurtured palm trees are attractive and give tropical vibes. Regular maintenance is a good investment as it adds value to your property. Trimming and skinning are two of the most used methods for taking care of your palm trees.
Despite their beauty and popularity for scenic photos, palm trees can pose significant risks here in the Southern California climate.
Did you know that palm trees serve as excellent fuel for wildfires? Especially if unmaintained with dry fronds. When embers are floating from nearby wildfires or a stray firework ends up in your yard, those dry fronds are quick to light.
Did you know that pests, like rats and mice, also find those dry fronds to make a fabulous home up high and away from most predators. That's why you'll see large birds attacking something high up in a palm tree from time to time.

For these reasons, we highly recommend regular palm tree service to reduce these potential hazards and to keep you and your property safer.
Give us a call at 949-691-3774 today and we will evaluate your palm trees and provide recommendations.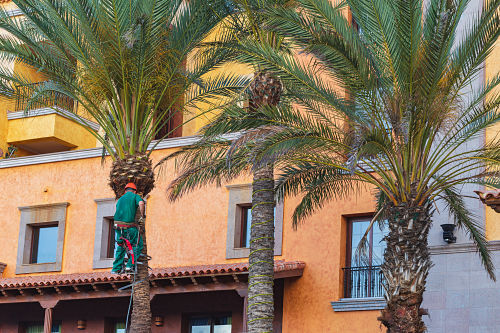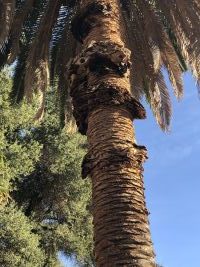 Palm Tree Skinning
It is the method of removing dead fronds on the trunk to make it appear smooth. Other than the aesthetic advantage, skinning is healthy for your tree. It cuts down possible pest and insect development as unnecessary fronds are the usual home of these organisms. Dead fronds also take nutrients that are supposed to be for the essential parts of your palm tree. 
Palm tree skinning costs vary because each palm tree service job is unique. Factors that may affect the price are the height, condition, and accessibility of the tree. 
Palm Tree Trimming
This includes cutting unnecessary seeds and fronds. Your palm tree will be healthier with more sun and air it obtains. Trimming also eliminates fire and accident hazards.
What happens if you don't trim or do skinning to your palm trees?    
The health and well-being of your palm tree will deteriorate if palm trees are kept untrimmed. Fallen old fronds will also be a mess to your landscape and are unsafe. 
Ideally, it would be best if you had your palm trees trimmed once or twice a year. This is to avoid pests or fungus to build up. Dead fronds, if not removed, can be infected and may affect other trees. Dried parts of palm trees are excellent fuel for fires, and they put the surrounding vicinity at risk.
Trimming your palm trees is an actual investment for their health and your family's safety.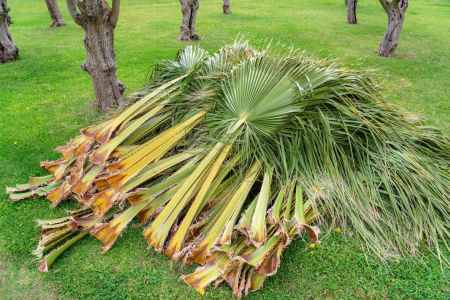 When is the best time for palm tree trimming or skinning?
Spring is the best time to trim your palm tree. This is the time when flowing begins. Large pods that turn to seed will start falling. If you also notice that your palm tree is not in good condition, consider trimming it as soon as possible. Avoid the mess of fallen palm tree branches by booking palm tree service ahead of time. 
Remember that palm trees should only be trimmed when the oldest fronds turned brown and dry. Over trimming can constitute a harmful effect on your palm tree and is also unattractive. 
Should I remove a palm tree?
Sometimes, the only solution for your palm tree issue is removal. Here are few indications that you may need to cut down a palm tree:
Roots are getting too big

The tree has contagious infections

Pest and insect outbreak

Prone to hazard – like near to establishments

Landscape renovation
Palm tree removal is usually the last thing an owner would do. Trees, like pets, commonly become part of an owner's home or to the appeal of a business establishment. Regular palm tree maintenance can help with the longevity of a palm tree's life. 
Wrong handling of palm tree services may only lead to more cost and harm. It's always better to hire professionals because they have the knowledge and machines to handle your palm tree requirements better. Let your tree expert do the job to save your time and eradicate unlikely risk and cost.
Palm Tree Service Near Me
Some tree service companies are not appropriately equipped for palm tree services because of their extreme sensitivity. A+ Tree Service Newport Beach is your local palm tree service company that can help you with your palm tree requirements. 
Why Our Clients Trust Us For Palm Tree Care:
Our certified & licensed crews will assess the tree's condition before making any recommendations. While we want to fix the problem at hand, we also want to do what is in the best interests of both the tree in question and the surrounding area.  
Our team doesn't use spikes as this tool creates long-term or permanent damage to your palm tree.
Our tools are disinfected for every tree to ensure that there will be no spread of disease between trees.
Our team comes fully equipped with tree trimming trucks and shredders
We make sure that no debris is left behind after we complete our work.
We are extra cautious when doing your palm tree service. The safety of your family, your property, and that of our highly trained team are paramount.
Our affordable palm tree service does not compromise the value of our services. We only want our customers to get the best value for their money and peace of mind. 
We are a licensed and insured professional palm tree service provider here at Newport Beach and cover most of Orange County. Whether it's a residential or commercial area, our team follows the best practices to ensure the safety of everyone. Let our efficient team do your palm tree service needs!
Call us at 949-691-3774 for your free quote.
If you are looking for a Tree Removal Company in the Greenville NC area, check out our trusted partners.